I. Introduction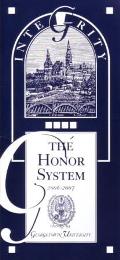 As a Jesuit, Catholic university, committed to the education of the whole person, Georgetown expects all members of the academic community, students and faculty, to strive for excellence in scholarship and in character.
To uphold this tradition, the University community has established an honor system for its undergraduate schools, including Georgetown College, the School of Foreign Service, the School of Business, the School of Nursing and Health Studies, and the School of Continuing Studies. Beginning in the academic year 2015-16, terminal masters students (with the exception of the Masters in Business Administration programs) are subscribed within the Honor System policies and procedures. Students are required to sign a pledge certifying that they understand the provisions of the Honor System and will abide by it.
The Honor Council is the principal administrative body of this system. The Honor Council has two primary responsibilities: to administer the procedures of the Honor System and to educate the faculty and student body about the standards of conduct and procedures of the System.