I. Introduction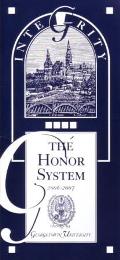 As a Jesuit, Catholic university, committed to the education of the whole person, Georgetown expects all members of the academic community, students and faculty, to strive for excellence in scholarship and in character.
To uphold this tradition, the University community has established an Honor System for its undergraduate and graduate programs (with the exception of the MBA, MD and JD programs), which are subscribed within the Honor System policies and procedures. PhD students who have completed their coursework are governed by research integrity policies.
The Honor Council is the principal administrative body of this system. The Honor Council has two primary responsibilities: to administer the procedures of the Honor System and to educate the faculty and student body about the standards of conduct and procedures of the System.