II. The Honor Pledge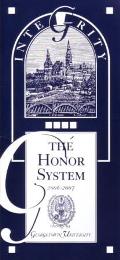 Upon application to any of the academic divisions of Georgetown University subject to the jurisdiction of the Honor System, all students will agree to sign the Honor Pledge. Upon matriculation, the student will state or write the pledge as follows:
In pursuit of the high ideals and rigorous standards of academic life I commit myself to respect and to uphold the Georgetown University honor system:
To be honest in every academic endeavor, and
To conduct myself honorably, as a responsible member of the Georgetown community as we live and work together.
Faculty may at their discretion require students to include a signed version of the pledge with their assignments.